The virtual event has quickly become the new tactic that every marketer should be leveraging, and it's going to be even more important in 2021.
The number of organisations planning a virtual event doubled in 2020 and many companies have now embraced them going forward because of their advantages compared to traditional events.
Not only do you have a potentially bigger audience with an online event, but you're also able to access speakers and talent that might not have been attainable before. This helps to drive down costs and increase ROI.
This guide will take you through how we considered, evaluated and redesigned the virtual event process using HubSpot, and how we achieved real business results, including driving $300,000 in revenue in 3 months.
Let's get started!
Contents
Why virtual events are so important now
For a long time, face-to-face events were a key strategy for many marketing departments. You could connect with prospects and existing customers in-person and build relationships to help bring in business.
But when the pandemic hit, that put an abrupt halt to big, in-person events for most of the world. With a major marketing tactic now unavailable, that's forced companies to quickly adapt and find new opportunities to provide value, demonstrate capability and connect with their market.
This has resulted in a surge in virtual events such as webinars, panel discussions, Q&A sessions and more. As mentioned earlier, these types of events bring their own benefits in terms of reduced costs (venues, travel, accommodation) and greater access to bigger audiences and speakers.
Almost 40% of event organizers found it easier to find great speakers for virtual events.
Importantly, virtual events allow companies to continue their dialogue with their audience and help deepen existing relationships as well as build qualified new contacts.
Key considerations for a virtual event
When considering how we would help our clients continue to engage virtually with their communities, we needed to factor in the attendee experience and the wider business impact.
This meant thinking about:
Content - Topics to cover and making sure it was fit-for-purpose.
Format - What was most relevant for their audience e.g. open discussion versus presentation.
Engagement - How do you get audiences to interact with the content?
Ongoing value - How can you continue to leverage virtual events going forward?


What makes an engaging virtual event
There were three main areas we focused on when it came to the attendee experience: the user experience, the viewing experience and the personalised experience.
User Experience
It goes without saying these days that you want to have a seamless web experience, so we wanted to have a very focused objective for every landing page. If it was a register page, the goal was to simply get people to register. If it was a central episode hub, the goal was to be a single place where we could house episodes and that was simple to navigate to. Visitors can look at what episodes are live or on-demand, and then they can add them to their calendar or go watch the others.
The other area we looked at from the user experience point of view was the communication strategy. We wanted to have a seamless and very thought out workflow around email communication and also social posting, which we'll get into more below.
Viewing Experience
What are people seeing when they are actually watching the event? Nothing is more boring than just seeing a single person or presentation slides on a screen. From a back-end and production point of view, many platforms don't give you many options to control and change who or what is shown on-screen on the fly.
We wanted to look at what technology we could use to broadcast the live stream that would give us more control over what people were seeing on screen. We wanted multiple viewing layouts to create a viewing experience that was as close to a broadcast or TV quality as possible.
Personalised Experience
We wanted to deliver a unique experience for audiences. That might be in the form of a personalised greeting when they land on the landing page, or it could be personalised content or interactive polls they can interact with on the landing page.
By having that capability, we can track and analyse the data, and understand more about how visitors are interacting with the content. We can then use that information to deliver more tailored content to them in the future and help build an overall better user experience.
Our virtual event plan
After evaluating our options, we decided that the best way to deliver valuable content would be through a series of live and on-demand panel-style virtual discussions on highly relevant topics, with multiple ways to engage. These were the key objectives:
Accessible live and on-demand
All episodes in the series would be run as live events and then immediately made available on-demand to maximise reach.
Capture market insights
Valuable market insights would be gathered via interactive Q&As and polls, providing valuable data on audience wants and needs.
Connect additional resources & content
Additional resources, follow-up blog posts, email and social media would be used to expand the reach beyond just the event.

Virtual event metrics to capture
Through the virtual event program, we wanted to understand exactly who was engaging with the episodes, what they were engaging with and understanding where they were in the buyer journey. This would enable us to tailor the successful follow-up sequences and handover to sales. These were the key metrics we wanted to capture:
Contact data
Ensuring the right data has been collected and captured upfront in order to qualify and score them. This can be simply asking for the job title in a form or only allowing work emails to be submitted.
Engagement & feedback
Incorporating interactive elements such as chatbots, pop-ups and polls to create those conversations, generate feedback and personalise the user experience.
Marketing ROI
Understanding that the event is driving revenue; something all marketers desperately want to know with their activities.
Virtual event technology we used
HubSpot (CMS & CRM)
For us, HubSpot is really the beginning, the end and everything in between.
As a full sales and marketing solution, the HubSpot CRM enables us to streamline processes, optimise campaigns and boost engagement across our channels. From a CMS standpoint, we used HubSpot to develop custom modules that were easily configurable using the 'drag and drop' editor.
This combination of the HubSpot CRM and CMS enabled us to get virtual event landing pages into market quickly and capture details. From there, we were able to use live user data to see how people were interacting and using the pages to then make changes on the fly and get them performing at a high level.
We also leveraged personalisation on every landing page once our audience had registered to access the virtual event series. They would see a personalised greeting welcoming them to the series as well as customisable content people could consume after watching an event.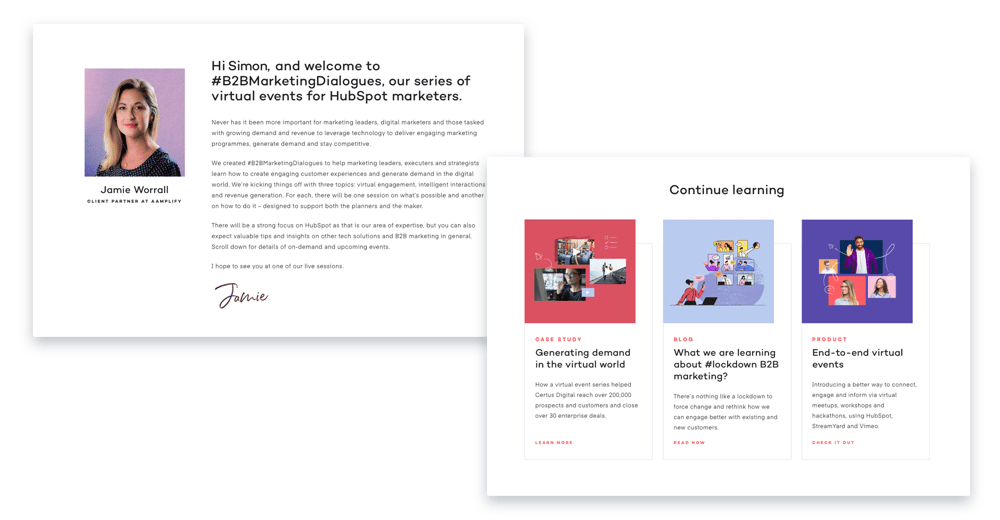 99% of marketers say personalisation helps advance customer relationships, with 78% claiming it has a"strong" or "extremely strong" impact.
HubSpot was crucial for understanding the ROI of virtual events by using the revenue attribution metric. It's important to note that this information is only available if you're using HubSpot Sales Hub.
In there, it tells you which marketing campaigns, content and actions are driving the most revenue for your business. This makes it a powerful metric to see the impact a marketing campaign actually has on your bottom line.
For marketing teams, it allows you to understand the full value of your activity, such as which content assets are associated with the most closed deals and attributed revenue. This helps you make smarter decisions on what to focus your efforts on moving forward providing a link between marketing activities and revenue generation.
StreamYard
We chose StreamYard as the platform to deliver our virtual events because it allows you to easily create professional recordings with live editing capability. This meant it was easy to brand the recording, add on-screen text, graphics and overlays to deliver something visually entertaining and dynamic.
This came back to our aim of providing a viewing experience over and above simply recording an online meeting, which can be quite dull to watch. The live editing capability also means there is little to no post-editing required, making it perfect for marketers who are producing virtual events without access to technical resources or who want to get it up and running themselves.
The other benefit of StreamYard is that it allows you to set up events directly embedded in your HubSpot website. Attendees don't have to go to a third-party website and, from a reporting standpoint, you're able to track all the contact's activity within your website.
Vimeo Live
With the recording being done through StreamYard, we used Vimeo Live as the live streaming platform. This gave us real-time engagement data including how many people were watching, live Q&A capability and polls to help keep viewers tuned in. These metrics were also critical to ensure we understood what questions attendees had, whether there were any knowledge gaps, and what is and isn't working.
When a live event has ended, the video on the watch page automatically changes to the on-demand version meaning you don't have to upload the recording to the page as a separate task. This helps save a lot of time and resources and ensures a seamless transition from live stream to an on-demand episode.
Another great point with Vimeo is once the recording is done, you can add elements such as CTAs to those recordings. These can be links to other content, resources and even email capture forms before the video plays so you can gate videos on your pages to collect contact information.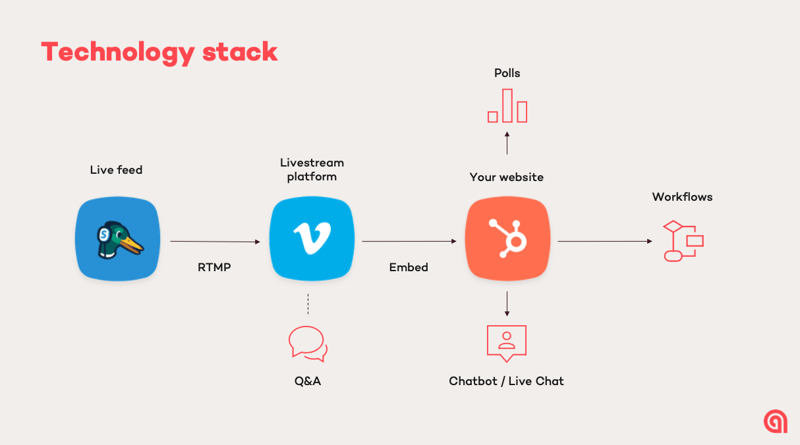 How it all works together
This video outlines the workflow we set up for our #B2BMarketingDialogues Series.
Real results from a virtual event series
We used this methodology to launch, promote and execute a virtual event program for Certus Digital called #DigitalDialogues.
The series of topical discussions with industry experts and customers helped Certus Digital reach over 200,000 prospects and customers and close over 30 enterprise deals. Here's a quick look at the results achieved.
Key Results For #DigitalDialogues
Audience Reach: 210,000+
Number Registered: 250+
Influenced contacts: 800+
Closed deals: 35
Revenue attribution (3-month campaign): $380,000+

👉 Read the full #DigitalDialogues success story
Making virtual events work for
As more and more companies consider how they will deliver events virtually, it's critical to ensure these include some key features. Content must be available on-demand and must provide value by addressing topics that are relevant to your audience. In the programmes we're delivering we're seeing audiences are coming and going in shorter sprints so it's really critical to have that on-demand access.
It's also important to ensure the platforms you use to deliver virtual events offer you flexibility on types of formats so that you can monitor and optimise the experience over time.
The final takeaway is to practise, practise and practise to ensure your virtual events go off without a hitch. Create checklists for what needs to be done at all stages of the event process, refine your format once you know what works and you'll be delivering engaging and valuable events in no time.
Go virtual now
Talk to us about your marketing and event goals and find out how we can help you go virtual fast.