As you will no doubt be aware, social engagement is a fundamental requirement in all digital marketing campaigns. In this post we'll be looking at Facebook's engagement rate, which is measured by interactions, or for the more tech savvy readers:
"To calculate the ER, take the total PTAT (people talking about this) and divide by the total number of likes. PTAT is a rolling 7-day period, updated every 24 hours, and includes all page likes, post likes/comments/shares, @ tags, wall posts and event RSVPs" - Facebook
Is your Facebook strategy successful if you're only getting a 2% engagement rate?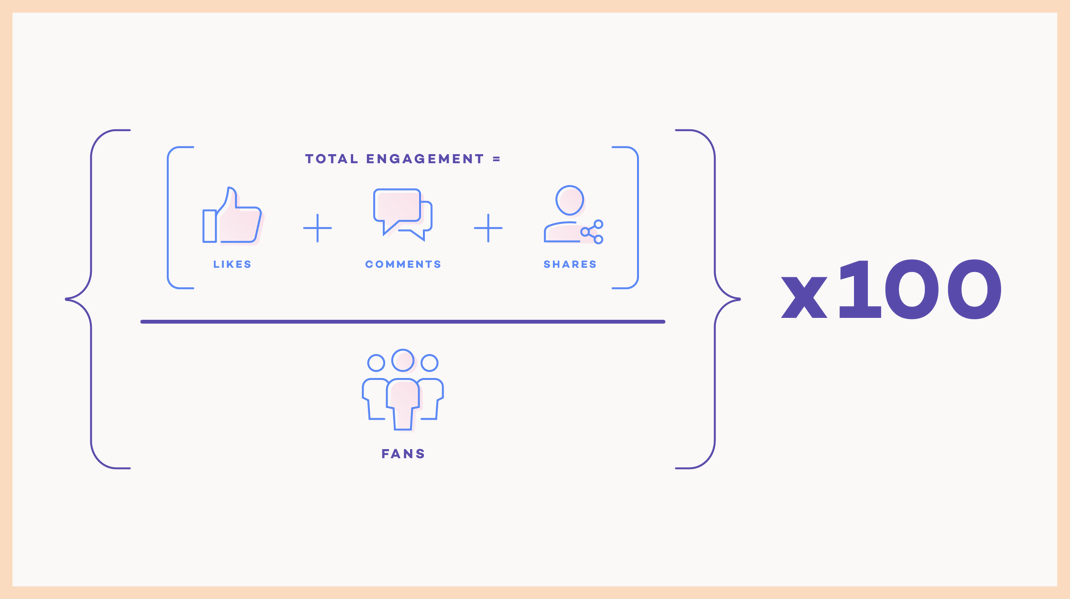 You need engagement to convert your audience to action.
Mari Smith says:
"The average engagement rate is just 2%. This low number is primarily due to Facebook's filtering algorithm called EdgeRank, where users see only a small selection of posts by friends and pages they've liked in their news feed. Facebook says the average number of fans who see your posts is 16%. Source
Even so, with EdgeRank factored in, if your content is awesome, hits the right mark and engages your audience you'll almost certainly reach more than 16% of your fan base organically.
Michael Leander's experience is even more shocking:
My answer to the question about average engagement rates on Facebook pages have usually been the following:
Above 1% engagement rate is good; 0.5%-0.99% is average; and below 0.5% engagement likely means that you need to realign your messages to that of your audience's expectations and in the process attract more compelling and engaging messages from your community members.
If these numbers are true, it also means that the 90-9-1 rule of thumb for social networks is under attack. (The rule that suggests 1% is your naturally engaged audience, 9% your infrequently engaged audience, and 90% your unengaged audience.) Source
I don't know about you but I find all of this seriously disturbing.
Let's forget about EdgeRank for a minute.
You've invested time and money to connect and grow your Facebook audience but your page posts fail to resonate with more than 1% of them?
So after all that work you're only connecting with 1%? Leaving 99% of people ignoring your posts, uninterested or at least not motivated enough to like, comment or share it.
I would have thought an ER of 10% would be a reasonable target. But I'm now thinking anywhere between 5-10% is amazing. Pages with more than 10% ER are often in campaign mode with promotions and paid media boosting their reach and engagement rates.
The difference between a weak page post and one that earns a high Engagement Rate is a social media strategy with a well thought out program. Understanding your audience, what motivates, entertains and interests them is critical. Knowledge, research and truly understanding your brand characteristics and personality will aid your ability to produce authentic, original content that's relevant to your audience.
My observation is that many brand pages are planning page posts too far ahead, running 'set and forget' style campaigns and failing to allocate 'real-time' budgets. Real time budgets enable brands and their agencies to respond to current cultural influences [topics and trends of the day] to create relevant, original content that's in context and interesting to their audience.
So which New Zealand Facebook brand pages are doing well and which ones need to reassess their page post program?
I looked at the following pages and calculated their Engagement Rates from PTAT scores for the last 7 days.
Brand - Engagement Rate
| | |
| --- | --- |
| Air New Zealand - 2.35% | 3News - 6.45% |
| Mighty Ape - 1.35% | One News - 9.96% |
| McDonald's NZ - 2.05% | ASB - 12.30% |
| Dominos NZ - 0.39% | BNZ - 4.42% |
| Whittakers - 0.62% | ANZ - 1.86% |
| Griffins - 7.62% | Kiwibank - 1.14% |
| Tip Top - 4.98% | Westpac - 3.40% |
| Grab One - 1.88% | Telecom - 1.58% |
| SkySportNZ - 5.16% | Vodafone - 3.03% |
| NZ Herald - 5.65% | 2DegreesMobile - 0.64% |
| Stuff.co.nz - 5.00% | Orcon - 1.00% |
| FOUR - 0.89% | New World - 1.22% |
| MTV NZ - 2.88% | Countdown - 0.87% |
ASB are running their 'Like Loan' campaign at the moment. They may have some media spend boosting their page posts. Either way ASB's activity is connecting with their audience who are highly engaged in the promotion.
How well is your Facebook page connecting with your audience?
From this research if you're engaging more than 5% of your audience you're doing exceptionally well. Less than 1% and you probably need to gain a better understanding of your audience and rethink your page post strategy.
Doing so will increase your ER, and improve your ability to convert more Facebook activity into measurable actions, hopefully increasing your ROI.
Need to improve your Facebook engagement rate?
Click here to get in touch with us, or click chat icon at the bottom right-hand side of your screen to send us a message!