As Leading HubSpot consultants, we're in step with the platform's capabilities, latest features and updates. We've been keeping an eye on the chat stream and have decided to build a series of articles answering the most pressing questions.
We continue our deep dive into the HubSpot Business Units Beta, providing context on what it is, how it works and the improved functionality it offers Business with multiple divisions or sub-brands.
Chapter 2: Business Units Limitations
Following on from chapter #1 - Business Units Beta and the scope of business benefits on offer, this blog Chapter 2 – Limitations looks into considerations and limitations of the Beta at this point in time.

While we tally a list of positives for Business Units, there are some limitations that you need to consider. Some of these will be temporary, as you'll see in the list below, so that's something to keep in mind when deciding if Business Units are right for you.
Price
The Business Unit add-on (for Marketing Enterprise customers only) is $1000 per month per Unit. This could add up quickly if you manage multiple brands and require several Units. However, compared to the cost of opening additional HubSpot accounts, a Business Unit may be more cost-effective. Check out the qualifications checklist below to see if your business is right for Business Units.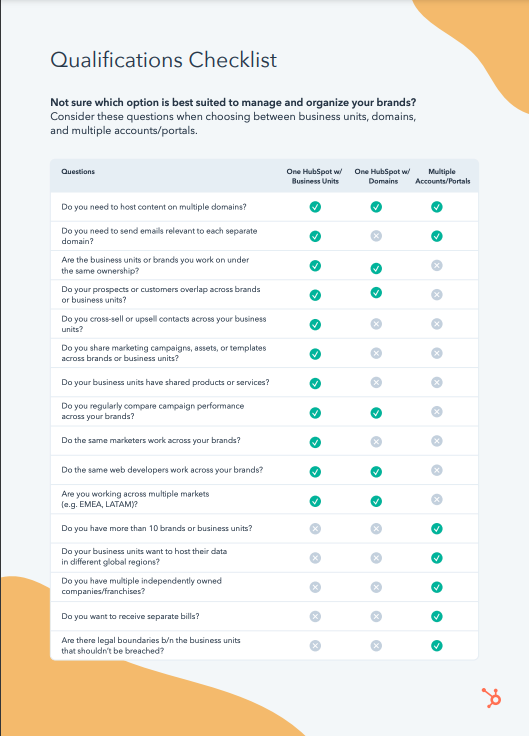 Time
Depending on the complexity of your HubSpot account set-up, there could be a considerable time investment required to set your Business Unit(s) up correctly. This includes modifying, reorganising and assigning assets, objects, and reports to the appropriate Business Unit(s). 
Limited functionality
Business Units are a great solution for managing multiple brands, but it does have some limitations at the moment. If you pop onto the HubSpot community, you will be able to read customer use cases with Business Units. As each business' need is unique, different limitations may affect a business in a different way.
Two limitations that are important to mention are being unable to assign permissions to a specific Business Unit (as of May 2022) and the being unable to move assets from one Business Unit to another.
Currently, users in your company cannot be given access to only one specific Business Unit, so any and all users will have access to the entire HubSpot platform. This is a feature that many in the HubSpot community have asked for and believe it is on their radar to address in the near future.
When it comes to being unable to move assets, some companies are having to recreate assets that were assigned to an incorrect Business Unit. This can be understandably frustrating.
Issues with multiple time zones
Currently, you cannot assign individual Business Units to different time zones. Whatever time zone your HubSpot account is set will be universal across any Units you have. If you require separate time zones for social, marketing automation or reporting functions, you will need to have a separate HubSpot account for each brand in those different time zones.  
Knowing if Business Units are right for you
When you consider both the benefits and limitations of HubSpot's new Business Units, it is a feature that shows a lot of promise and will continue to evolve. Current limitations will most likely be addressed, turning them from problems to solutions.
By investing in HubSpot Business Units now, you could see immediate benefits to your organisation while also being set to scale up as needed. They can grow with your organisation and provide the tools necessary to manage complex business CRM, marketing, and sales systems.  
Next Steps
If you are considering whether to add Business Units to your HubSpot platform or have purchased Business Units but aren't sure what to do next, we are here to help. Contact us